Experience BalticSatApps all virtual at Shift 2020 on 27–28 October!
SHIFT Business Festival provides the why and how of intelligent business. Intelligent business is sustainable and profitable, and able to adopt new technologies when they're relevant to the business. The SHIFT 2020 takes place at a virtual 3D event platform, Virbela, on 27–28 October. Due to the increasingly alarming Covid-19 situation in the Southwest Finland, the event organisers have decided to turn the entire event production virtual. All the related BalticSatApps events are also turned virtual and possible to participate by buying a 2-Day virtual Festival pass via the SHIFT 2020 event website.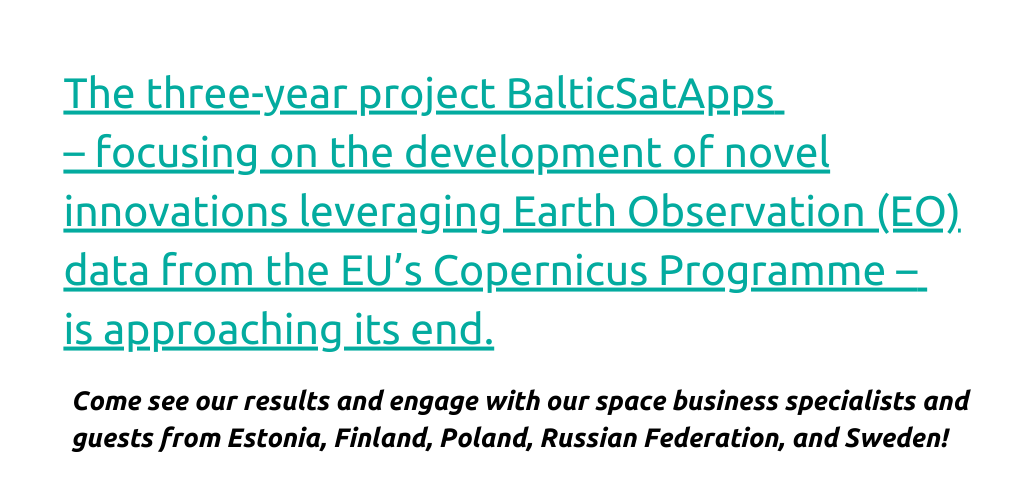 Virtual BalticSatApps Booth on 27–28 October
Our virtual booth at the SHIFT 2020 will be open on:
Tuesday 27 October at 9–17:30 CET
Wednesday 28 October at 9–17 CET.
Virtual BalticSatApps Workshop on 27 October at 16–17:15 CET
Satellite data for a sustainable future
The workshop "Satellite data for a sustainable future" will focus on the utilization of satellite Earth Observation data as an enabler of applications that e.g. facilitate recovery from natural disasters, and foster the sustainable use of natural resources and development of urban areas. The European Copernicus Programme offers Earth Observation data free for anyone. The BalticSatApps project promotes the development of new business leveraging Earth Observation data from Copernicus.
16:00–16:15 Company presentation: "Zero Gravity – enabling resilient urban areas with satellite data" – Olga Bodet, CEO, Zero Gravity
16:15–16:20 Discussion about the presentation
16:20–16:50 Workshop powered by Slido: "Your thoughts about the presentation: What else can & needs to be achieved with similar technological solutions?" – moderated by Niina Käyhkö, Associate Professor, University of Turku
16:50–17:05 BalticSatApps: "What did we achieve and how, how to continue from this onwards?" – Tuomas Ranti, Project Manager of BalticSatApps, University of Turku
17:05–17:15 Questions, comments, engagement! – moderated by Timo Huttunen, Network Manager, Tech Turku, Turku Science Park Ltd
---
New economic activity for Baltic Sea Region from satellite data
The BalticSatApps project has covered and supported the whole chain of new service development from needs to solutions, and from there to commercialisation. User uptake activities started by approaching the user and developer scene of EO data. Then innovation of EO-based services was conducted with innovation competitions in EO. Next, it was time to develop and pilot an Acceleration Programme in EO for new business development. After further innovation contests and hackathons, the Acceleration Programme was taken on a second round of piloting.
The project has also fostered collaboration with the Russian Federation within the thematic area of EO. In addition to information and training events arranged there, a Russian interface for Copernicus data was developed during the project.
Throughout its duration, the project has prepared guidelines and materials including info training documents aiming at assisting also third parties to conduct innovation activities focusing on EO. The BalticSatApps website will be the main channel for making available the results of the project.