BalticSatApps Success Stories: Smart City 3.0 in practice by Almine

Satellite data is a valuable source of information that can be taken as an advantage by many sectors. At present there are use cases in natural hazards management, agriculture, hydrological analysis, monitoring of forests, environmental degradation or transportation sectors. We found out cities do not use so interesting source of information about changes in urban area and it is the perfect companion for all categories of the Smart City 3.0 strategy: Local Communities, Smart Economy, Smart Environment, Smart Governance and Smart Mobility.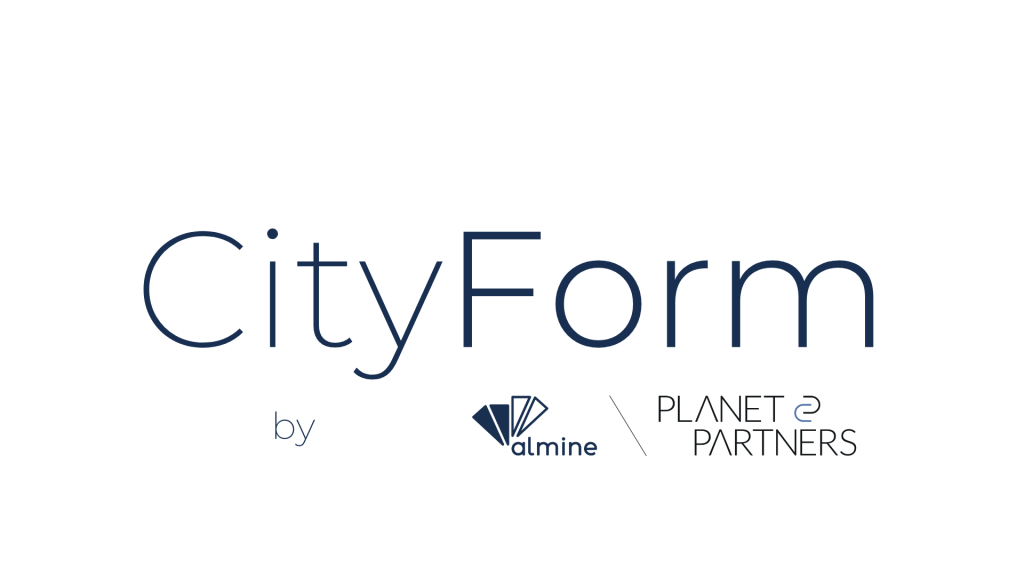 Almine is the consulting company from Poland focused on helping cities in implementing Smart City strategies and solutions – we analyze and advise the best ones. Our offer consists of city consulting, PR & Marketing and advanced IT Smart Governance services.
We help cities in trouble
Cities rely on traditional, manual tools to plan infrastructure. It is an expensive and unreliable way to do it and that is even worse when we discover that cities can have a lot of different IT systems that cannot be connected. It causes many problems and generates high costs. Cities need a common platform for each office to make them work together. A city must provide public services, so it is valuable to know the demand for each one, and design infrastructure with the lowest impact on the environment and humans.
Citizens would like to see what is planned for next months and share their thoughts. It is really important when we talk about Local Communities in Smart Cities. At present people write comments in Facebook groups that is not the best way to reach public officials.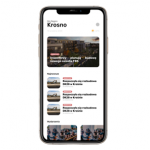 CityForm
CityForm is the Smart City platform dedicated for planning city infrastructure, such as public transport, roads, greenery or public services, to make citizens happier, improve quality of the cities' services and reduce costs of planning. We organized many meetings with final users to understand their requirements, pain points and currently used tools. Smart City background helped us a lot because we know how some processes look like in offices.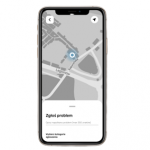 My Region
Moreover, we will give access to the CityForm all citizens by our other service called My Region. It is the platform for Local Communities that helps in improving citizens' participation in city life and delivers direct access to all information about what is happening in your area. You can find information about air pollution, local news or report any issue in your area that needs to be fixed, share your ideas in the forum and discuss them with various stakeholders. We would like to add there the space with data about city plans. People are interested in investments in their neighborhoods. Moreover, we want to deliver it for free.
My Region is the useful tool for creating and improving Local Communities. We understand Local Communities are the key to make real Smart City 3.0 – people need a common platform for sharing ideas and staying up-to-date with all things in their area. It is a social service but based on local communities and not global networks like in Facebook groups.
How does CityForm help cities?
CityForm delivers information about needed infrastructure, how many people use some services, and how the city infrastructure can be extended and how the city is changing. It is the best to show its features with help of some real life use cases.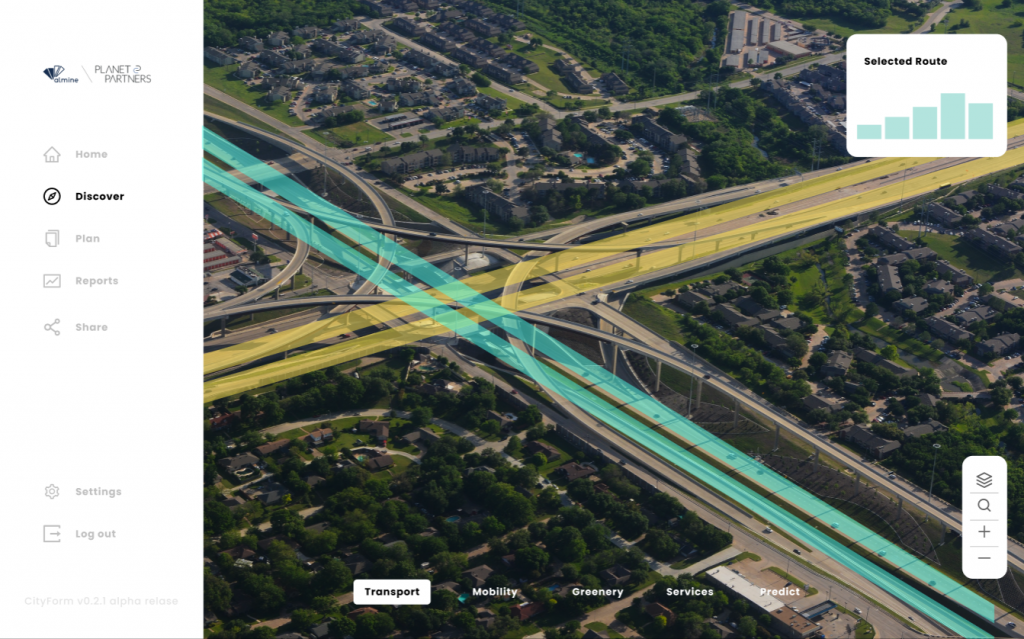 Real life use cases
Planning public transport
The average time to plan and build the tramway in Poland is about 8–10 years. It requires a lot of manual analysis, checking impact on the environment while it is far too long for the current VUCA world (volatility, uncertainty, complexity and ambiguity). We deliver a platform for this purpose with all required features: validation of environmental impact, analysis number of passengers, impact on streets and all in digital form to make it easily shareable. Cities need to become digitized in such cases.
Planning bike lanes and sidewalks
We analyze the number of cyclists and pedestrians. CityForm helps in designing safe bike lanes and sidewalks for all people and delivers projects in digital form that can be easily shared and discussed with the local communities.
Planning Smart Grids in the city on prediction of future investments
CityForm shows the report about current city infrastructure and predicts the future situation. It helps in planning all required infrastructure with lower costs and in a fully automatized way to reduce spent time. It is useful to plan water pipes and electricity to the future buildings to reduce costs of such analysis.
Plan green infrastructure
It is necessary to improve water retention, fight against urban heat islands and make the city more user-friendly. CityForm helps in checking current situation, shows recommendations and calculates the possible costs of such investments. Moreover, it can show proposals from citizens.
Detect any illegal actions
Find and report about any illegal building or suspicious action in the forest to help in taking care of the environment.
CityForm in action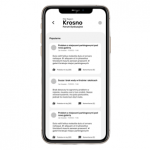 We are working on finishing the PoC of the CityForm. We moved our process to the scalable cloud infrastructure and it requires some changes on the technical side. There are testing sessions with users so we will for sure apply recommended changes to make our service better. As mentioned above, the My Region platform will get a CityForm module and the target date for this is September–October 2020.
There are a lot of ideas for improvements and the most important is adding support for data visualisation in augmented reality next year. We see potential in this technology, especially in the city planning sector, but this solution would yet be too modern in 2020.
Currently we are looking for cities that would like to evaluate such solution.
Satellite data for Smart Cities
The first challenge was about designing scalable architecture of the system to provide value to the customer with no downtime and in the fastest way. We have started from the scratch because there are not so many available solutions designed for satellite data. Our first version of the CityForm was focused only on reading such data and providing basic data processing to show information about city structure. It was achieved with Python scripts written in Jupyter Notebook. Frankly, it is the best tool for making such prototypes, especially that we were during the learning process in the BalticSatApps SpaceUp Accelerator Program that gave us a lot of knowledge about information from space.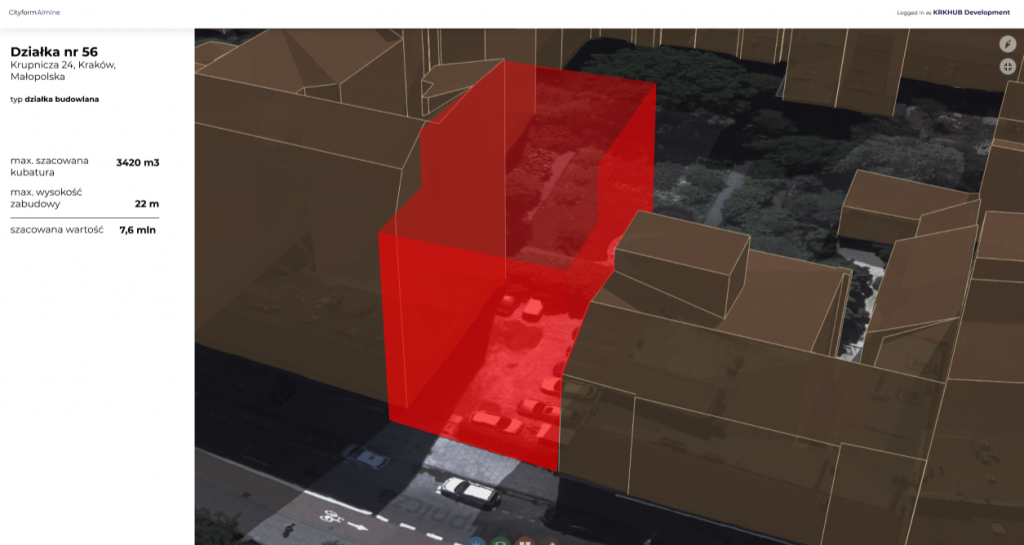 When we understood usage of satellite data, its structure and frequency of each layer, we decided to move to a more scalable and mature platform. We finished the PoC of the CityForm by using Python application with a simple web application written in Angular. Keep it simple, stupid – I think it is the best advice during making Proof of Concept for any platform. We have started evaluation with first users and it gives us valuable feedback.
Currently we are working on processing all data with Apache Spark in Databricks platform that provides a scalable environment with great performance. We prepared applications for uploading satellite data that we store in object storage and we can enrich them with any different data source that is crucial for our customers.
We tried with various satellite data sources. Tests were the greatest field to gain experience with processing satellite data and we know which we should use for each use case. We decided to use:
Sentinel 1 – it is an additional data source that we will improve in future releases of the CityForm. We still validate it because it may be helpful in emergency governance in cities and in monitoring forests near urban areas.
Sentinel 2 – it is the most important satellite data for CityForm. It is used for land use and change detection.
Pan-European High Resolution Layer – it provides information on specific land cover characteristics, and is complementary to land cover / land use mapping.
Corine Land Cover – due to its age we used it for validation of our data pipelines.
We can enrich them with different data sources and it is still in development to find the best. Surely, it depends on the customer's datasets too.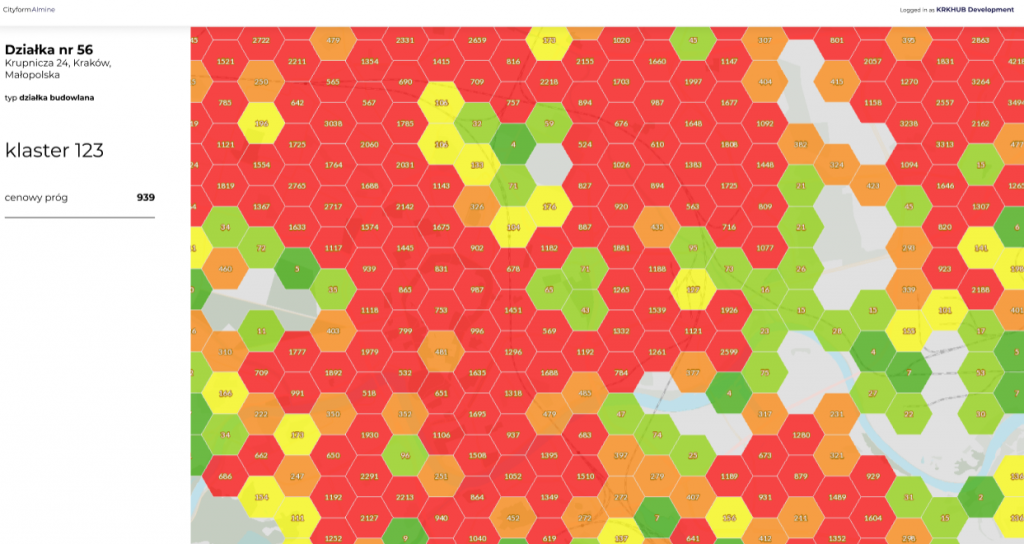 Connection to BalticSatApps
We found information about the BalticSatApps SpaceUp Accelerator Program in social media. We had some ideas related to Smart City so we thought it would be great to enrich them with the value of satellite data. We applied with the first version of CityForm that was designed for architects and real-estate developers. Well, we evaluated our business plan and decided to focus on cities' officials and all companies that maintain city infrastructure.
Inquiries and information
Contact us if you are interested in Smart City and Smart Governance tools.
Our team consists of four people. Albert Lewandowski is responsible for creating IT architecture, writing data pipelines and creating scalable processing engine for real Big Data. Karol Kowalski works with Data Science stuff to detect changes and to predict needed services of infrastructure. Szymon Tomczyk works with web application development and Łukasz Wilczyński is responsible for marketing & sales actions.
Łukasz Wilczyński, CEO / l.wilczynski@planetpartners.pl, +48 516 036 036
Albert Lewandowski, CTO / albert.lewandowski@almine.pl, +48 669 328 447
You find us as well on:
Albert Lewandowski